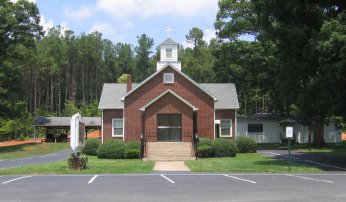 About St. Mark United Methodist Church:
St. Mark United Methodist Church is located in the rural, northern part of Forsyth County just short of the Stokes County line on Baux Mountain Rd.. The church, founded in 1909, has approximately 100 members and warmly welcomes visitors and new members.
The Reverend Lloyd William (Bill) Baird, Jr., is the current pastor of St. Mark.
Sunday School for all ages is held each Sunday at 10am. Worship Services begin at 11am.
Other regular church activities include:
Choir Practice (weekly or biweekly)
Children's Choir
Visitation of church and community members who are ill or in need
Senior Citizens group meetings
United Methodist Women meetings and fellowship
Administrative Council meetings
Bible Study
"Family Night", a time of fun and fellowship with games and a dinner

Annual or seasonal church activities include:
Youth Handbell Choir (seasonal)
Vacation Bible School
U.M.W. Fall Chicken Pie Supper and Bazaar
"Trunk or Treat" - a family-oriented alternative to Halloween trick-or-treating
Annual Fall Hay Ride and Wiener Roast
Brunswick Stew
Thanksgiving Fellowship Service and Dinner
Hanging of the Greens (a churchwide preparation for the Advent/Christmas season)
Christmas Program and Dinner
New Year's Eve Tenderloin, Ham, & Egg Supper with Fellowship to bring in the New Year
Visitors are always welcome at our church services and at our church activities!

The History of St. Mark United Methodist Church:
In 1909 a brush arbor meeting was held on the site where the church now stands and was led by the Rev. Thomas E. Wyche. After the meeting closed, Henry T. Boles, James H. Morris, and Marcus Ligon began a drive for a Methodist church in the community. The church now known as Saint Mark United Methodist Church was founded in 1910 on a track of land deeded to the trustees of the church by Marcus Ligon, James H. Morris, and wife, Lelia Brown Morris. It was dedicated the same year.
The church started with twenty-one members and was placed on the charge with Germanton and Rural Hall. In the following year more land was given to the church by T. J. Cumby, S. A. Perrell, Dr. V. L. DeHart and Mrs. S. A. Perrell and heirs.
In 1930, during the pastorate of Rev. James Campbell, a wing was added to the church. In 1947, the church was blown from its foundation during a storm and the present building was then erected on the same site. The church was dedicated in 1950 by the Rev. George W. Williams. In 1959 the activity building was erected for educational and recreational uses. In 1965, during the pastorate of Rev. Cletus Pope, the church was renovated inside. New windows and all new furnishings were installed.
In 1984 the vestibule was enclosed and lamp posts were installed on either side of the front steps. A picnic shelter was built in 1989. In 1991 St. Mark became a part-time station church, receiving for the first time a minister dedicated to St. Mark only.
The activity building was renovated in 2001-02. A new kitchen was added, bathrooms were upgraded and new walls, windows and ceilings were installed for the original part of the building. In 2003 new purchases included a stained glass window at the front of the sanctuary, a new sign and a new heating/cooling system for the activity building. A new furnace was installed in the church in 2004.
In the Spring of 2007, a new playground was dedicated at St. Mark. This new playground, which includes slides, swings, a climbing wall, and see-saws, will entertain our church and community youth for years to come.
Also in the Spring of 2007, St. Mark installed a LCD projector and screen in the church to assist with interactive worship.

After much dedicated fundraising and work, our church purchased a much needed bus in 2009. A building to store the bus and other church related items was erected in 2015.
The Rev. Joseph Taylor served us for eleven years as a part-time minister beginning in 1993. Upon his retirement in July 2004 we were led by the Rev. Kel Billings. Rev. Billings answered God's call to the mission field (to serve for six months as a volunteer missionary in Bethlehem) and then to seminary full-time, and in June 2007 the Rev. Hagan McClellan became our pastor. Reverend David Felts joined our fellowship in November 2010 and in October 2011 the Reverend Dr. Patty Suggs began leading our worship. In July 2014, Rev. Lloyd William (Bill) Baird, Jr. was appointed our 36th minister and we joined a two-point charge with Germanton UMC.
Those preceding her and the year they began serving are as follows:
Thomas E. Wyche, 1909
George W. Williams, 1911
Joseph Folger, 1912
C. R. Allison, 1915
George W. Williams, 1917
J. W. Kennedy, 1920
J. T. Ratlage, 1922
James Morris, 1925
N. F. Crowder, 1927
James Campbell, 1928
J. B. Fitzgerald, 1932
J. 0. Banks, 1937
Robert F. Hunt, 1939
W. Reid Harris, 1940
Robert M. Varner, 1947
George W. Williams, 1949
W. B. Royals, 1950
Arthur L. Chamblee, 1952

Neil Smith, 1956
Don Davis, 1960
Cletus A. Pope, 1964
Wallace F. Ryals, 1966
Derry Barnhardt, 1970
Gerald Hester, 1975
Brady Bergen, 1977
Clark Benson, 1978
Vera Gebhart, 1980
Dee Bee Martin, 1981
Thomas R. Steagald, 1985
Douglas L. Suggs, 1988
Joseph M. Taylor, Jr., 1993
Kel Billings, 2004
Hagan McClellan, 2007
David Felts, 2010
Patty Suggs, 2011
Lloyd William (Bill) Baird, Jr., 2014